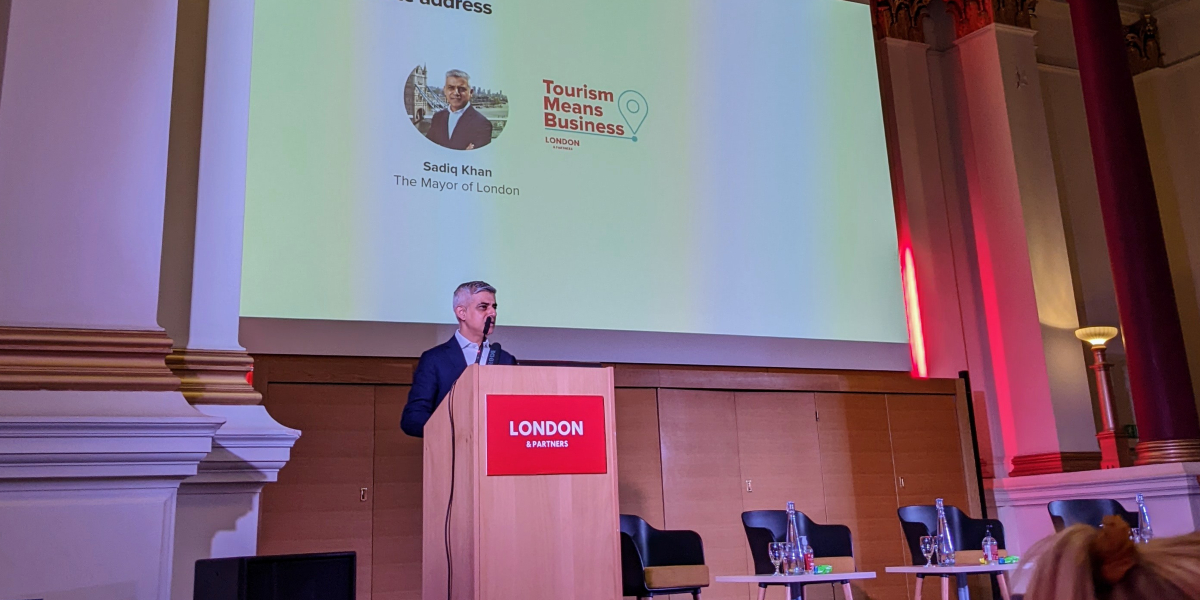 Vital Stats
Event Name: Tourism Means Business conference
Client: London & Partners
Event Style: In person, VIP lunch, conference, breakout sessions and press briefing
Attendees: 150, including Sadiq Khan, Mayor of London and press
London & Partners wanted to use their Tourism Means Business conference to announce several major new initiatives, including substantial forward-looking investment into tourism.  The presence of Sadiq Khan, Mayor of London and Laura Citron, Chief Executive of London & Partners was expected to create substantial press interest, which would therefore require press briefing facilities.  The event started with a VIP lunch and concluded with a drinks reception both of which required a sustainable menu that would minimise food waste – there was no requirement for a plant-based menu, instead a desire to demonstrate how sustainable options are available beyond vegan products.
Solution
BMA House is a long standing member of London & Partners and is well known as one of the most sustainable in their portfolio.  These were key factors in the reason we were chosen for the event, as was our ongoing commitment to sustainability and the close working partnership we have with our catering partner, CH&CO.  We demonstrated this in 2020 when we signed up to the Mayor's 3 Commitments for Hospitality and Sustainability via London & Partners. This aims for a zero carbon London by 2050, zero waste commitment and best practice guidance for individuals. Along with this commitment, BMA House itself is aiming for net zero within 10 years.
The event made use of:
The Prince's room for a VIP lunch
The Great Hall for the main conference
The Snow and Paget rooms for arrival refreshments and afternoon canapes
The Paget room for press interviews
The Courtyard for part of the afternoon and evening drinks reception
To ensure the catering was sustainable, CH&CO. continued with the many sustainable practices they already undertake, many of which are listed below.  However, in addition they worked with Waste Knot, a social enterprise working to ensure all produce makes it to market rather than being wasted due to imperfections or surpluses.
Menu for the VIP lunch:
Main Course
Chalk stream trout, spring greens, new season potatoes, herb oil, carrot powder, buttermilk sauce
Spring Greens from Waste Knot, Carrot powder using peelings from bowl food prep, potatoes from Waste Knot, herb oil using all herb trimmings and stalks and blended with British rapeseed oil
or
King cabbage, miso glaze, butternut puree, toasted seeds, shizo leaf (VE)
King cabbage from Waste Knot, toasting the seeds from the butternut squash to minimise wastage
Dessert
Set oat cream, vanilla poached rhubarb, ginger and spelt crumble, torched meringues (VE).  Served with tea, coffee and water/ Rhubarb Fizz (soft drink)
Meringues made from chick pea water, seasonal rhubarb used in dessert and all trimmings will be used to make rhubarb chutney for evening canapes, and the poaching syrup used to make a rhubarb fizz for the refreshing drink
Canapes served in the afternoon included:
Cauliflower and beetroot bhaji, spiced rhubarb puree and coriander salt (VE)
Beetroot from Waste Knot, using all the cauliflower trimmings from lunch menu, utilising the seasonal rhubarb across the whole of our menu to reduce wastage and drying coriander leaves and stalks that may be past their best and Knot normally used – then blending with salt to produce a fantastic seasoning
Potato and celeriac tart, Montgomery cheddar, green herb sauce (V)
Using Waste Knot products across our menu to reduce wastage, also using the bruised pieces of the amazing Montgomery cheddar that are Knot normally sold for retail based solely on appearance when they taste delicious
Gressingham duck, spring onion, Essex cucumber, Rhubarb puree
Gressingham ducks are an amazing British product, we confit the legs and use the bones to make a reduced duck sauce showcasing how we minimise wastage and use every part of the duck, the rhubarb puree comes from the rhubarb that is featured throughout our menu again to minimise wastage and energy use
Miso fudge brownie, candied butternut seeds (V)
The candied butternut seeds are usually a bi product from menus but we ensure every part of the vegetable is used
In addition to the catering choices at the event – some of BMA House's ongoing waste reduction practices, which were appreciated by London & Partners, include:
Food waste is collected by Paper Round for energy production
Staff lunches use leftover or repurposed food
Soups are made using leftovers and food that might normally be thrown
We have used food bank collection for tinned and packaged food that has or is about to go out of date
Reuse food where we can eg soups, wasted bread and pastry products to make bread and butter pudding
Chutney made from peelings and waste fruit
Any leftover cakes are taken to many of the teams within BMA House as a treat – great for morale!
We ask for final numbers to be confirmed before the event so that we can make adjustments to production – reducing wastage
Feedback
"On behalf of the entire London & Partners team, may I take this opportunity to thank you for your hospitality and hosting of our event yesterday.  Your exceptional attention to detail and patience with our requests and requirements were most gratefully noted and received.  As stated verbally yesterday, it was the first time which I had worked with BMA House and it was seamless.  All the staff were attentive and responsive to any query and under Hannah's direction the event results speak for themselves." Donna Abberley, Corporate Events Manager for London & Partners
During the event, the Mayor of London, Sadiq Khan discussed his goals for London's tourism industry, adding: "While it is promising to see more and more people visiting the heart of London, I know that it has been, and continues to be, a difficult time for the tourism sector in the capital, which is used to welcoming people from all over the world.
"I'm committed to doing everything I can to get London back on its feet after the pandemic, and I will continue to work alongside London's businesses and tourism industry to encourage visitors back to our city. Now that restrictions for travellers coming to the UK have lifted, London is fully open once more, and our new £10m international tourism campaign will help to ensure we retake our place as one of the most visited cities in the world."