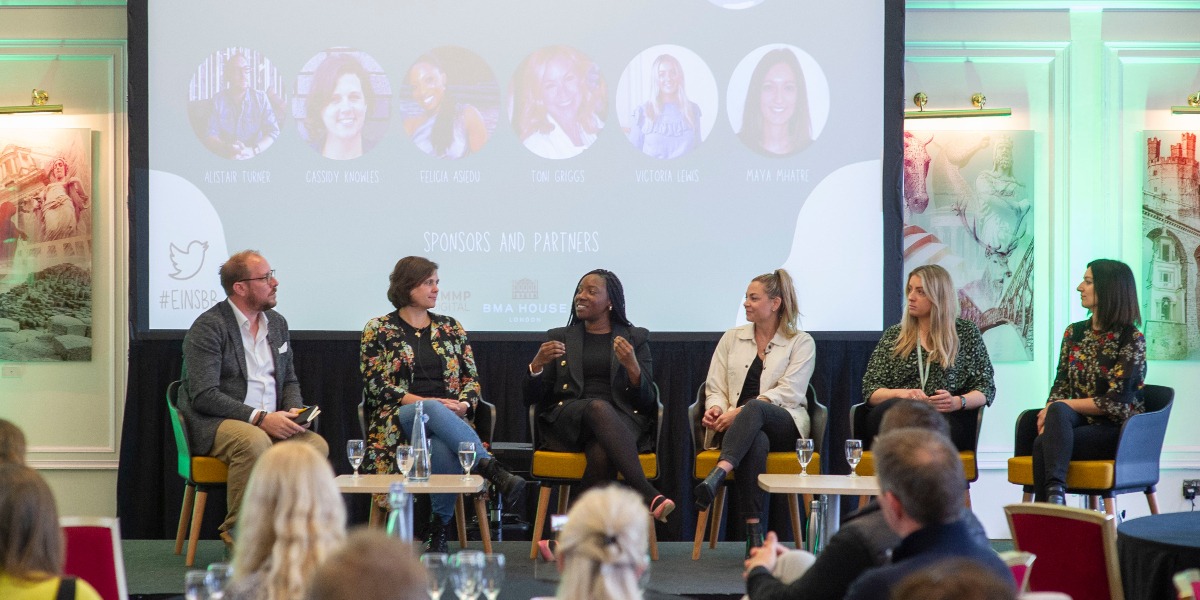 Vital Stats
• Event Name: EIN Sustainable Event Buyers Guide Launch and Briefing
• Client: Event Industry News
• Event Style: In person, panel debate and networking
• Attendees: 55
Client Brief
Event Industry News (EIN) wanted to launch the third edition of their Sustainable Event Buyers Guide to a room full of industry influencers and experts. Specifically, organisers, brands and agencies demonstrably committed to dialling down their event's pollutants. With more than 10,000 downloads of the previous edition, the latest Guide was expected to be highly popular across the industry, so EIN needed to ensure that the launch reflected the content of the publication.
Solution
BMA House was chosen by EIN as an ideal location for the launch due to our ongoing efforts to increase the venue's sustainable credentials. With a number of sustainable award wins to our name, measurable sustainability improvements and a place amongst the EIN's top ten sustainable venues we were the ideal choice.
To ensure the launch added real value for the attendees, EIN decided to include a panel debate led by experts in the field of sustainable events.  Led by moderator Alistair Turner (Eight PR), the panellists included: Cassidy Knowles (Chorus Agency), Felicia Asiedu (Cvent), Toni Griggs (isla), Victoria Lewis (BMA House) and Maya Mhatre (Reset Connect).  The debate focused on the need for all to be more proactive in their event sustainability, whilst acknowledging there are many options for positive change – no matter how large or small the budget.
Sustainability was incorporated into the event from the very beginning, with all pre-event comms being digital.  This even included pre-event client meetings, which took place via Zoom rather than require the client to travel to London from Leeds and incur either financial or environmental costs.
To support the sustainable nature of the event BMA House worked with our catering partners, CH&CO. to provide a PLANT BASED breakfast that included:
Date and coconut rawnola, burst blueberries, soya yoghurt
Crushed pea, mint and chilli on toast, with roasted tomato
Plant based cream cheese bagel, nori marinated carrots, watercress, capers
Super green smoothie shots
Water (filtered and bottled on-site)
Fair Trade Tea & Coffee
The event made use of the Paget and Snow rooms, whilst site inspections were offered throughout, giving the attendees a chance to see the rest of the venue whilst gaining a wider understanding of our sustainable credentials (more of which can be found here.
Audio Visual equipment used during the event also supported the sustainable nature of the launch, with plasma screens used to replace pop-up stands and banners throughout.  The use of QR codes on screens also removed the need for paper as attendees were able to directly download the Guide and other content.
Even the delegate journey included sustainable elements as all attendees were encouraged to use public transport, including making use of BMA House's Clean Air Walking Route, which took them on a picturesque stroll away from the busy Euston Road, whilst breathing 57% less air pollution.
The whole event is showcased via a video created by AMMP Media which you can view here.
Feedback
Alison Jenkins Founder and CEO of meetingsclub provided the following feedback from the event:
"I just wanted to say a big thank you to the fantastic panel at the Event Industry News Sustainable Breakfast Guide briefing at BMA House this week.  The whole piece around sustainability for meetings & events can mean many things to many people. It can be seen to be hugely confusing, complicated and expensive. The panel were able to bring their experience and knowledge to the room to help everyone understand more about this important and growing need and how it doesn't need to be confusing, complicated and expensive. You just need to start and don't be afraid to talk about even the small steps you are taking, they all count."
"It was a great informative morning at a venue which has sustainability right at the top of their list and have been driving this for some time and not forgetting the absolutely delicious food from CH&CO.  Thank you to everyone involved."
A verified meetingsclub reviewer also said: "I've worked with the venue on many projects in the past but this was the first time hosting an event.  All the staff from the minute go were clear, professional and organised from time/dates being accurate to paperwork on time and again clear.  Rebecca was amazing as always and I look forward to hosting further events in the future.  The in-house caterers were brilliant, the food was exceptional, highly recommended."