Here at BMA House headquarters, we have been working our magic with our chefs, catering and marketing teams to create a new menu and DDR package to shake up the industry.
Just last month the team at BMA House unveiled our brand new 'Well Grounded' DDR package comprising an entirely plant-based menu in line with our green credentials.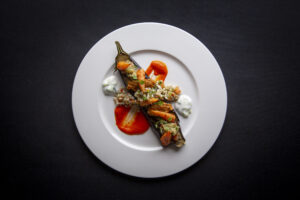 The 'Well-Grounded' package offers three refreshment breaks, with delicious and healthy snacks, a hot fork buffet lunch and fresh mint tea in the afternoon.  Delegates can select from tasty lunch options such as; Pulled jackfruit & sweet potato chilli with cocoa nibs, soya bourguignon with red wine, wild mushrooms and vegan bacon or tomato gnocchi with Sicilian aubergine stew.
Alongside delicious and nutritious options, your delegates will be saving the environment using our 'Smart KAPP' interactive flipcharts and reducing the amount of paper and waste.
Not only have we created this pioneering package, but our chefs also launched an entirely plant-based menu alongside the 'Well-Grounded' DDR.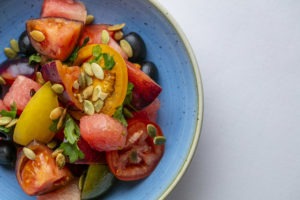 Therefore if clients want delegates to do their bit, perform well and help the planet, but don't want an entire package, then they can choose indulgent dishes from our breakfast, refreshment, and lighter lunch menus.
Eating a plant-based diet has proven links to health benefits and lowering our environmental impact and we have our 'Green Guru' Victoria Lewis to thank for this package.
We spoke to Victoria about the inspiration for the package:
"As the resident 'Green Guru' and all-round lover of sustainability, I know that we are a very forward-thinking venue in terms of our green credentials, but we wanted to do more than making changes around the venue, we wanted to get our clients to embrace sustainability too."

"I worked alongside our Venue Manager Kat, General Catering Manager Johnathan and Executive Chef Gordon to come up with a delicious and nutritious, 100% plant-based offering. We took inspiration from our Botanical Garden and included fresh mint tea breaks, to remove non-biodegradable tea bags and to aid digestion.  We are super pleased with the finished product and proud to say we are only one of two venues to offer a fully Vegan menu. We are successfully selling our 'Well-Grounded' packages for 2019 and 2020 and we cannot wait to see more."
At just £75.00+vat per person, the 'Well-Grounded DDR' package is the perfect offering to do your bit for the environment, in a stunning venue that promises to deliver exceptional service. If you want to opt for our 'Well-Grounded' package for your next event, then get in touch today!
– Main meeting room hire (09:00-17:00)
– Catering room hire (09:00-16:00)
– Fairtrade filter coffee, speciality tea and mini blueberry muffins on arrival
– Mid-morning Fairtrade filter coffee and speciality tea, granola bars and whole fruit
– Hot fork buffet lunch
– Flavoured hydration station
– Mid-afternoon fresh mint tea and cake bites
– Still and sparkling bottled water throughout
– Interactive flipchart
– Soya milk is provided as standard, dairy provided on request