The sun is starting to appear more often, blossom is appearing on the trees and spring flowers are poking their way through the dark winter soil. It is impossible not to feel a little more upbeat when there is so much fresh growth around us.  The feeling of "potential" within nature's bounty is incredibly powerful and that feeling generates thoughts of long summer's evenings, outdoor celebrations and parties.
Summer parties are of course not limited to just a few friends but also offer a wealth of opportunities to gather with a much wider range of acquaintances, colleagues, clients and more.  They are a chance to revel in the warmth of a setting sun, whilst enjoying fantastic food and drink, great company and here at BMA House the unique, undefinable feeling that nothing beats a British summer's evening.  In fact, you might even describe it as "paradise."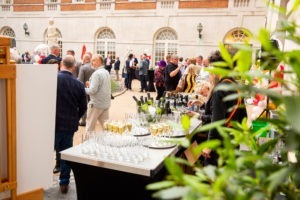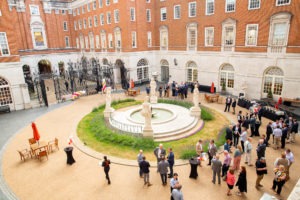 Such an event sounds idyllic, what better way to spend a summer's evening?  However, such events come at a cost both financially and environmentally.  With regards to the costs there are a wealth of tips organisers can follow to make the figures work.  However, the single biggest tip we can offer is to think in terms of value rather than cost.  Focus spend on the areas that really matter such as venue choice, catering and theming – those are the elements attendees will truly remember – particularly if you think in terms of quality rather than quantity.
However, it is vital that we consider wider costs that might not initially or directly impact us in the short term – but could impact us all for many years to come.  Events by their very nature can have an impact on the environment and we therefore need to make allowances and adjustments wherever possible to minimise this.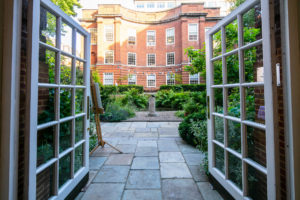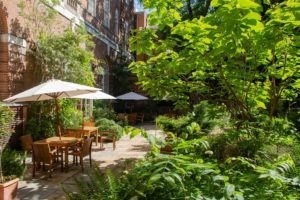 Here at BMA House environmental savings start with the simple choice to use our wonderful outdoor spaces for summer parties.  Whether it's our Courtyard, with its magnificent fountain for up to 320 or the Garden with its hidden nooks capable of hosting 90, either of our external spaces free up the need for the additional lighting and electricity that accompanies indoor spaces.  However, at BMA House we go a lot further than thinking about just the electricity bill when it comes to sustainability, and we believe you should too.  So, what else can you consider when organising your sustainable summer party?
Start with travel – how will you and your guests get to the party? Few things are more pleasurable on a summer's evening than a leisurely stroll, so consider proximity for your guests when selecting a venue.  A venue with a clean air walking route should also be a strong contender due to the higher air temperatures in summer – which can increase pollution and smog in traffic dense areas.
Public transport options should be considered – ranging from the tube and buses to include some of the more unusual options such as the scooters and bikes that are hireable in many cities. In fact, with good light remember cycling could be a great option that might not be considered at other times of the year.  Transport to and from an event is one of the single biggest environmental factors every organiser should consider and needs to be factored in from the start.
Attendee numbers are vital – so get them right. Food waste offers one of the biggest opportunities to get event sustainability right but can also be an area for huge mistakes.  Ensuring accurate catering numbers and sensible portion sizes are the perfect place to start.  Consider your minimum numbers, keep a close watch on registrations and communicate with the venue as things change.  A good venue will know how much food to cook and deliver for any given number of attendees – but only if they have accurate information.
Food choices are also a great way to minimise waste. People attending a stand-up party in hot summer weather will eat differently to the same group sitting down for a three course Christmas party.  Again, the venue will know and understand how to get the numbers right.  However, they can also steer you in truly sustainable directions when it comes to the food choices.  We are for example offering beef and lamb free menus as standard for 2023 as well as entirely meat free options – Jackfruit Burgers have to be tasted to be believed…
Summer food choices also provide a wealth of seasonal options, including some of the best fruits and vegetables unavailable locally in the winter. These allow for incredibly creative menu options – not to mention some pretty unusual cocktails.
It is also worth noting that changing climates mean some of the best sparkling wines are now produced here in the UK – so don't ask for imports and their associated food miles when you can support vineyards all across the country.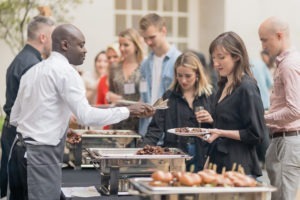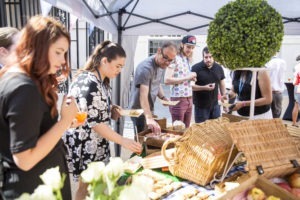 Finally, it is worth considering theming.  In the dark winter months, most venues might consider decorations and other paraphernalia to maintain the Christmas spirit.  Summer is very different – the weather is potentially all the theming you need.  So, avoid wasteful expenditure on single use décor and simply enjoy the wonderful light and warmth that comes from not just the climate but also the camaraderie and pleasure of spending time with other people.
Paradise Found party packages at BMA House
Join us for an unforgettable summer party in paradise, in the heart of Bloomsbury!
This year we invite you to experience our version of paradise in our exciting Paradise Found party package. Being in paradise is said to improve your wellbeing, so let us transform your mood from work to bliss the moment you step inside our wrought iron gates. Soak up the sun whilst sipping on cocktails with colleagues next to our magnificent fountain in the Courtyard, suitable for up to 320 guests, or tuck into a sizzling BBQ or vibrant Street Food stalls in our lush idyllic Garden, for up to 90.
A sustainable summer
Sustainability is always at the forefront of party planning; our catering partners, Company of Cooks. will ensure only the finest quality ingredients are used. Our ethical & sustainable food practices mean we support British farmers & source local produce where possible, whilst ensuring food waste is at its absolute minimum.
No matter the theme or size of the crowd, you can customise your Paradise party package to fit just what you imagined.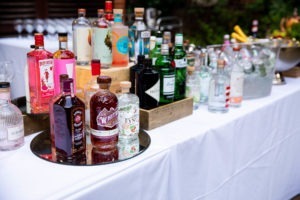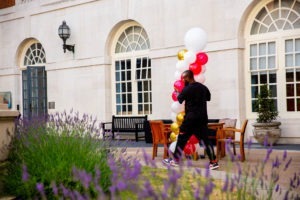 For more information, contact us here
The BMA House Events Team