Well, what a year this is turning out to be!
As we begin May, we thought we would be looking ahead to a fantastic summer, parties in the Courtyard throughout June and July, and lots of outdoor drinks receptions and BBQs.
In reality, I am sat at home writing this from my bedroom, desperate to return to my normal life; my daily commute, my early start, and battling the horde of people outside Euston.  Who would have ever thought we would be thinking ahead to Christmas already with summer sunshine only just in our sights?
With things so uncertain, now is the time to look ahead and to focus on the future. We are optimistic in terms of focusing on the latter part of the year and are flexible and happy to hold your dates for longer. Looking ahead to Christmas, staff will want a reason to let go, enjoy themselves and say goodbye to a challenging year at the Christmas party.
Of course, we know that there may be social distancing restrictions in place, and we have fully reviewed our capacities to reflect this. We hope to see things slowly return to normal and with lots of availability and time to research, now is the perfect time to book and plan your Christmas party to give your staff something to look forward to.
Alongside the launch of our 'Party in a pear tree' Christmas packages we have put together some top tips for planning a Christmas party in 2020.
Venue
It can seem overwhelming looking for the right venue, especially when typing 'Christmas Party Venue London' into Google and coming back with thousands of results.
Have a think about what type of night you want to offer your guests, are you looking to put on a rave in a modern funky warehouse setting, or do you want to thank your guests with an elegant evening in a stunning listed building?
At BMA House we have several different rooms, each with a different feel so get in touch with one of our Planners who can match our spaces to your requirements and numbers.
Budget
Whilst we don't like to start by talking about the nitty-gritty straight away, it is always good to have a budget in mind from the offset of when you start planning your Christmas party. That way, you know exactly what you have to spend on each component.
Your budget needs to cover several different elements of the evening, so splashing out on that giant light-up Santa straight away might not leave you with much else to spend.
If you haven't got an endless budget but want to thank your staff, different venues offer different packages that can ensure you have an unforgettable evening.
Let your venue know how much you are willing to spend (we won't use this against you or increase our rates) it is just helpful for us to be able to put together an offering within your budget.
Catering
Now you have chosen the perfect venue to host your Christma party and you know what you have to spend, the next most important choice to make is the catering.
Let's face it, when anyone attends any form of party, they remember the food, drink, and entertainment. If you can take away just one tip from today it is not to scrimp on your food.
At BMA House, as the headquarters of the British Medical Association, we specify that all events that order alcohol have food on offer as well. Believe me, your guests will thank you for it the next day!
Whether you're offering a bowl food or canape reception or a seated dinner, try to select options that would appeal to the majority of guests.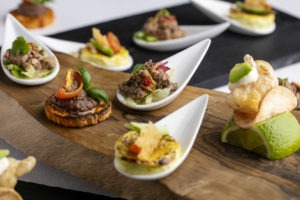 It is hard when looking through delicious menus to not just opt for your favourite dish but to think about what others might enjoy. Try to have a mix of fish, meat, and vegetarian options and think about those dietaries that will come up.
Here at BMA House, we have several plant-based, wellbeing, and gluten-free dishes that are delicious and take the hassle out of catering for a mass of requirements.
Our dinner party package this year comes with a dessert station as standard. This is a great way to get guests up from their tables and interacting with other colleagues over a truly creative and delicious masterpiece.
It is also important to think about what drinks you want to offer. Do you want an interactive gin bar with herbal infusions and free-flowing bubbles, or do you want to offer guests good old beer, wine, and soft drinks throughout the evening?
Again, it can be hard to not think about your own taste buds when selecting your wines, you might love a full-bodied Malbec from Bordeaux but will all your guests?
Most venues will allow you to have a menu tasting for a small charge or for free, dependant on your pre-booked package.
This is a great time to sample the menu and the wines, don't forget to ask for tips from the catering team and event planners on pairing this all together!
Entertainment
As I mentioned earlier the sign of a great party is when people remember great catering and even better entertainment.
If your budget allows for it, having entertainment at your party can really bring that extra layer of fun.
There is a number of really great suppliers out there. When it comes to planning your Christmas party, ask your venue for some advice on this, they will be sure to put you in touch with some great contacts.
A lot of people tend to think that entertainment at Christmas is all about the music, whilst a good DJ or jazz trio can really add to the atmosphere, there are also plenty of other options too. Magicians, caricaturists, giant games, and photo booths are a great way for your guests to get involved and have fun.
If you haven't got the money to be spending on lots of extras, then a good old Spotify playlist with some crowd-pleasing favourites definitely works as well.
Theming
Christmas is the perfect time of year for us all to enjoy a little bit of magic and fantasy.
If your thinking of theming your Christmas party, then definitely get in touch with a supplier or production company that focuses on theming.
They can transform any space with the click of their fingers. Keeping it simple works just as well and a lot of the time, venues will theme for you as part of their packages.
This year BMA House will be combining our passion for sustainability and our 'Party in a pear tree' package to help decorate and theme the venue for you to enjoy.
There we are, the top tips for planning a Christmas party in 2o2o.
If you want to host your party at BMA House, then our party packages start from £85+vat for a standing reception and £105+vat for a seated dinner. We know that things might seem uncertain right now and you might not want to book anything in but do give us a call.  We are happy to talk through all things COVID19 and hold some dates until we have a little more certainty. Here's to a very Merry Christmas!