At BMA House we are well known for our personal touches.  Our team are regularly mentioned by name by brides and grooms for their outstanding work, particularly as they work with couples all the way from initial enquiry to the wedding day itself and beyond.
With this personal approach in mind, we asked our very own Sasha (Senior Venue Sales, Events & Wedding Planner), who is currently planning her own wedding, what some of her top tips would be.
Q. Let's start with a nosey question – How was the actual proposal?
"We were away in Amsterdam for a few days in August 2020. We hired bikes one day and rode to a park for a picnic, Dan suggested going to look at the band stand which was overlooking a lake and as the clock tower behind us struck 11am (11 is our lucky number) I turned around to see he was down on one knee with the ring.  I was very surprised that he had finally popped the question – I had been waiting 10 years!"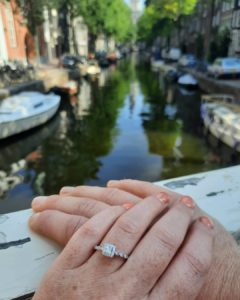 Q. How did you make your venue choice?
"We wanted the wedding to be an outdoor, countryside style so we started our search with this type of venue in mind. We visited 2 venues in Kent/Essex but neither of them offered enough outdoor space and focused too much on the traditional sit-down wedding breakfast inside. When visiting my family in the midlands an advert popped up on my Instagram for Belcote Farm, it was a brand new 'Tipi' wedding venue that had just opened in a village near where I grew up. We arranged a site visit for the next day and instantly fell in love with it – it was in the perfect setting, offered dry hire and had a brilliant package with so much included."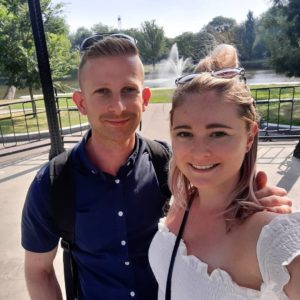 Q. You have a child, how have you incorporated this into your wedding day?
"Our little boy Chester and nephew Casey will both be our Page Boys, they will be 2 ½ at the time of the wedding. We would like them to walk down the aisle together before the bridesmaids, but I think we will see how confident they are closer to the wedding. We are going to book some family style entertainment if our budget allows – a magician or something similar, there are also lawn games included as part of our venue package so I think they will have fun with these. We haven't thought as far ahead of who will look after him on the day of the wedding, probably a few hours with the girls getting ready then he will go to the venue with the boys for photos before I arrive."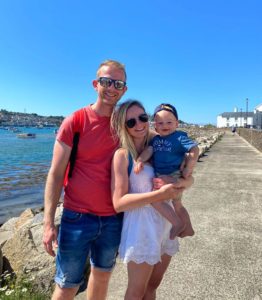 Q. What are you disagreeing with when it comes to planning the little details with your fiancé?
"Nothing… at the moment!!!
We are pretty much on the same wavelength when it comes to the wedding, we have each taken control of different elements – we both researched and narrowed the choices down to a few options and then made the final decisions together. So far we have booked the venue, band, photographer/videographer and caterers."
Q. What aspects have you most enjoyed?
"I have honestly enjoyed everything so far! I think as we both work in events, we understand the booking processes and how to work with suppliers which takes the stress out it. Finding our perfect venue was a highlight which made me very excited and going dress shopping with my mum and mother-in-law was a really lovely day and made it feel very real."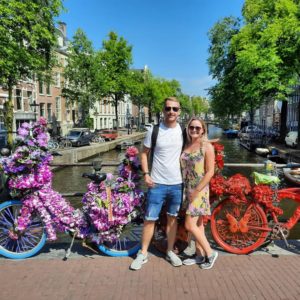 Q. If you had an endless budget, what would you do with it for your ultimate dream wedding?
"I would have a two-part wedding. Part one would be jetting off with our closest family and friends abroad for an intimate wedding on an exotic beach (maybe Thailand or the Caribbean) followed by a big wedding party at our current venue with lots of different entertainment throughout the day."
Q. What advice would you give others planning their wedding?
"Don't make decisions based on what you think your guests would prefer – everyone has different opinions so you will never please everyone, make decisions that are right for you and your partner.
Keep track of your budget – Sticking to our budget is very important to us and it is very easy to go off track and forget how much everything is amounting to. We have created a budget tracker in Excel which we have divided the total budget between different elements, and we are adding to that as we go – we have had to reign in a few of our ideas to keep within budget.
Share the load – I think sometimes Brides take on the stress and workload involved with a wedding.  Write down a list of everything that needs to be done and divide it between you and your partner and maybe get some family/friends involved too, it isn't as daunting if the Wedding planning is split into little tasks."
Thank you Sasha for these fantastic tips, we wish you all the luck with the rest of your planning, and hope your wedding is everything you dreamed it would be.
If you'd like to speak with Sasha for more advice, or require some information on holding your wedding at BMA House, please email [email protected] or call 020 7874 7020