Many will remember when Her Majesty the Queen, joined by James Bond, made a daring entrance to the opening ceremony of the Summer Olympic Games in London 2012, what a scene! But do you also remember when BMA House was transformed into Nike's Hospitality house, a location for select media and athletes to relax during the Olympic period?
On 27 July 2012, day 1 of the games, our Grade II listed building saw a transformation like no other – from its typical medical and historical nature, into a great sporting and media hospitality space. Two weeks prior to the opening ceremony, the beating heart of BMA House saw many internal and external changes to its event spaces, these included: giant topiary plants cut into the shape of trainers and running legs in the Courtyard; corridors lined with the latest running shoes behind glass cabinets; and mannequins showcasing Nike's sports clothing range – to name but a few.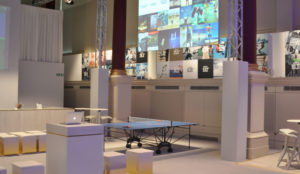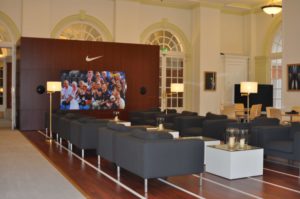 The Great Hall was pumped with adrenaline when our flagship space became a games room for athletes' families and half of the Hall stored over 4,000 Nike running shoes!
Rooms on our third floor saw top-of-the-range AV installed to project and display images of Nike's products, whilst the Courtyard Suite on the ground floor became three individual physio massage rooms to heal tired bodies.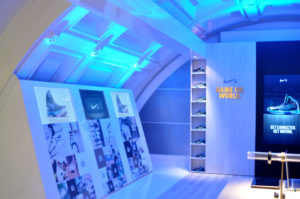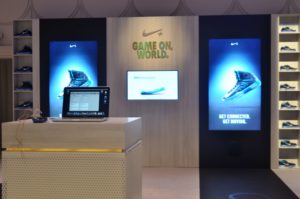 Our most popular spaces, the Snow and Paget rooms became the athletes lounge, a quiet space to relax and unwind and watch the live games on large screens, with flooring installed to resemble that of a running track.
Prestigious dinners for winning athletes took place outside in our stunning Courtyard, with food and drink provided by their own innovative Italian chef, who catered for every runner's needs by serving up nourishing, fresh dishes to aid fatigue and energise.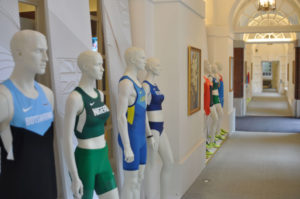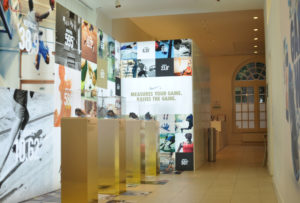 BMA House was chosen as the perfect venue for Nike's hospitality due to our British heritage, as well as our hidden location away from the limelight of the Olympic Park, our immense and beautiful building with seemingly endless corridors, our presentation rooms and stair wells.
So, we invite you to sit back and enjoy browsing these photos captured over this memorable occasion, you never know what our incredible venue will be turned into next!