Well, we have certainly had an interesting start to 2020, haven't we?!
My sympathy goes out to all the couples who have had to reschedule their weddings due to COVID-19. I know things are tough right now, but it's important to stay positive; you're still going to live happily ever after and have your dream wedding!
Whatever stage you're at in your wedding planning journey, I hope some of the below tips will help you create the perfect day for you.

Set a budget
An important first step is to decide what you want the budget to be for your wedding. This will be a driving factor in many of the decisions you make later down the line so should be one of the first things you think about.
Do some basic research into the costs for things like wedding venue hire, catering, dresses and suits, and flowers.
This will give you a rough guide for how much things cost, and you can then make a decision about what you think is a reasonable budget to set yourselves.
If any family members have offered to contribute, speak to them to find out what they'll be comfortable spending.
Sometimes families like to contribute a sum of money and others would prefer to put their money towards specific things, such as your wedding dress, the bar, or the photographer.
According to Hitched, the average spend on a wedding in 2019 was £31,974.00 which has increased from £27,161.00 in 2017.
Sometimes discussing budgets with someone you know that has recently gotten married can help, but don't forget that each and every couples' circumstances are different, no two weddings are the same, and therefore everyone's budget is different so try not to compare and focus on what is important (and manageable!) to you.
There are plenty of ways to cut costs and still have the wedding of your dreams. Pinterest is usually a great tool to help with DIY ideas! But that's a blog for another time…
Location, guests and venues
Once you have decided on a budget, you can start to look at where you would like your wedding to take place.
The location of your wedding venue often plays a big part in the wedding – couples often choose somewhere that means something to them, or that is easy for guests to get to (especially if guests are coming from overseas).
When you have decided on a location, you can start thinking about venues.
Get a grip on the approximate number of guests you'll invite and an amount you're comfortable spending before you start looking, as this will make it much easier to narrow down the venues you like that can accommodate your wedding and fit within your budget.
Some things to think about when choosing a venue;
What style do you want your wedding venue to be? Inner-city or countryside? Modern or historic? Classic or quirky? Whatever you choose, make sure it's a true reflection on you as a couple
Do you want your wedding venue to hold both your ceremony and reception? A lot of venues are registered for ceremonies, but some are not. Make sure the venues you shortlist can accommodate legal ceremonies if that's what you would like to do. Additionally, if you would like to dry hire a venue and bring in your own caterers (e.g. Kosher) then make sure the venue allows this too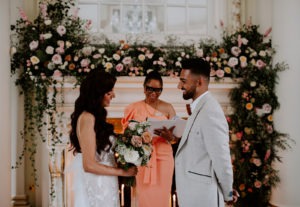 How does the venue contact come across? Your first point of contact when speaking to the venue is likely to be the one to plan your wedding with you and run it on the day. Make sure this person seems nice, knowledgeable, considerate of your choices and respects your vision as their support is vital when planning the day of your dreams. However, don't forget that they will know what works well in their venue (and what doesn't!) and will advise on what they think is best – it's a good idea to listen to their recommendations
Do you require outside space? A lot of wedding venues (like us!) have outside spaces which makes a really lovely addition to a summer wedding. If this is something that's important to you, make sure you explore the options available and any restrictions there may be
Do you get 'that feeling'? When you have found the right venue for you, you'll know. If it feels right, if you get butterflies, if you can picture yourself walking down the aisle there, it's the one for you. Just make sure you have done the previously mentioned points before finding the 'one'! Nothing worse than finding the venue of your dreams then realising it's out of budget or doesn't accommodate your guest numbers
When you have found the venue for you or narrowed it down to a shortlist, go and visit more than once!
Two or three times if you need to. There's no rush here, take your time to make sure everything is as you want it to be.
Your venue choice will affect all the other choices you make so it has to be right!
Wedding timeline
When you begin planning your wedding, it's good to create a timeline of what you would like to have organised by certain dates.
This will help you stay on track and give you something to work towards.
You can buy books and magazines which provide these things in detail, and we have put together a handy guide to help:
Catering
One of the main things guests remember from an event is the food! It's important to have something that excites the senses, compliments the day and keeps guests satisfied.
Traditionally, weddings have what we call a 'wedding breakfast'. This is the sit-down dinner had after the ceremony, drinks reception and photographs.
It's called the 'wedding breakfast' as it's the first meal you have after getting married – its nothing to do with the next morning!
Lots of wedding venues still use this terminology so don't get confused, it's just another term for dinner.
It traditionally consists of a starter, main course and dessert, followed by tea, coffee and petit fours.
However, couples are increasingly choosing alternative options for their weddings and opting for a less traditional wedding breakfast!
Some of the alternative options we offer that have proven popular with our wedding couples are street food, bowl food and afternoon tea! Choices that certainly get guests talking!
As well as food, drinks are a really important part of the day and your guests' experience.
Instead of just the usual wine, beer and soft drinks, why not offer your guests something a little extra?
Consider an interactive build-your-own gin or cocktail station, or a personalise-your-prosecco station.
Guests can pick their favourite drink and choose their own botanicals, mixers and syrups, and decorations to make it fun, interactive and personal.
It also makes for great photos too!
Whatever you choose, make sure it's something you will enjoy! After all, it's your special day.
Registrars and Celebrants
Once you have chosen your venue you will need to get in touch with the local council's registrars to book in your ceremony on your chosen date.
The registrars are the ones who will conduct your legal ceremony and bring the documentation for you to sign.
This is necessary for making your marriage 'official'.
However, something to consider when planning your wedding is how you would like your ceremony to run.
Your wedding venue should have a licence so you can carry out the ceremony in the venue and spend your whole day in that one place, but you are not restricted to this as a rule.
When a registrar is conducting your ceremony, it's restricted by legislation and no religious or spiritual content may be included.
Registrars often conduct a number of ceremonies the same day, so they are also restricted to time.
They will arrange to meet you both separately for a pre-ceremony interview and any readings must be approved before the ceremony takes place.
If you wanted to make your ceremony more personal and bespoke to you, then there's an option to use a celebrant.
Celebrants will work with you on your ceremony to reflect your ideas, values and personalities. You will be able to choose what is said, how the ceremony is conducted, how long it lasts and write your own vows.
Celebrants are used for that personal touch but the ceremony they conduct will not be legally binding so you will need to conduct a legal ceremony with your registrars as well.
This could be done on the same day at the venue or in the registry office before your guests arrive, or on another day completely.
It's your wedding and you can choose how you spend your day!
Other points to consider
Prepare for some guests not to come.
It's important to consider that about ten to twenty per cent of the people you invite won't attend your wedding. This can be due to the location, date, expenditure, etc. so don't take it personally and prepare yourself for this in advance
Have a uniform children policy
There tend to be four choices you can make when it comes to children and your wedding: you can welcome all children with open arms; you could have an adults-only wedding so no children are allowed at all; you can include immediate family only; or you can hire a childcare service to look after the children during the wedding. However, it's wise to avoid allowing some families to bring children whilst excluding others to prevent hurting feelings (unless of course, you have children in your bridal party)
A very common cause of contention is the politics involved in weddings. This usually comes from the 'they invited us so we should invite them' situation, or family having strong (often differing) opinions and wanting things to be a certain way. However, you need to remember that it's your day and everyone else is there because they love you and want to celebrate with you
Wedding spend statistic: https://www.hitched.co.uk/wedding-planning/organising-and-planning/the-average-wedding-cost-in-the-uk-revealed/