Following changes to working practices after the COVID-19 pandemic, leading London venue, BMA House is exploring why hybrid events are better for the environment?
The UN's Intergovernmental Panel on Climate Change (IPCC) has delivered the first major review of the science of climate change since 2013.  The results according to UN Secretary General António Guterres are "a code red for humanity."  According to the BBC, "the authors say that since 1970, global surface temperatures have risen faster than in any other 50-year period over the past 2,000 years."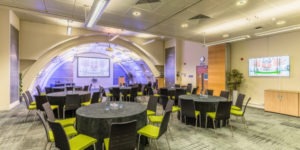 COP26 is an opportunity for the world to gather and make tangible changes in terms of carbon emissions and environmental change.  Some are describing it as a last stand for humanity.  It will be a face-to-face event that has the power to change the word for the better.  However, due to the impact of COVID-19, global travel restrictions, closed borders and more – it will undoubtedly be a hybrid event.  Given the nature of COP26's content, , what better time to question why hybrid events are better for the environment.
Firstly, it is worth noting that hybrid is not a new concept, it has however become a reality due to the impact of the COVID-19 pandemic.  COP26 will arguably be the world's first major hybrid event bringing together both in-person and virtual audiences.  Prior to COVID almost all delegates would have travelled to the event in person.  Now, necessity is forcing change, it is forcing new concepts in the world of event management.  It is making us think differently about attending events in person and how we calculate the value of travel.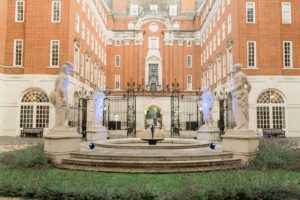 Travel to and from events is the most obvious consideration when it comes to the sustainability of in-person events versus hybrid events.  Cutting down on planes, trains and automobiles does unarguably make hybrid events better for the environment (and it would have saved John Candy a lot of hassle way back in 1987!).  It also allows wider audiences to attend – those who previously did not have either the funds or the time to attend an in-person event.  It is clearly the single biggest benefit to the environment for hybrid events.  So many miles of travel will be reduced, so many trips no longer need to be taken, so much fuel (not matter how responsibly sourced) will not be used.  An extension of this is also the potential growth of international delegates, who can attend virtually, without associated travel miles and cost.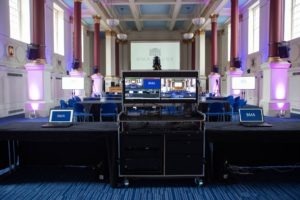 However, there are many other considerations beyond travel that need to be taken into account.  Firstly though, we must assume that a hybrid event includes some element of face-to-face meeting for some of the delegates (otherwise it would be purely digital).
Energy usage is a big question to consider.  The venue still needs power, but so do all the home offices and remote spaces for all the virtual delegates.  Perhaps the venue needs less power though due to smaller in person attendees, and the remote attendees were going to be powering and heating their homes anyway?  In terms of energy, on the surface it is perhaps a net balance.  However, the energy cost of streaming requires servers around the world to be on, cooled and maintained.  Plus each remote delegate needs to power their own devices.  Maybe this consumption balances out with less venue AV requirements and the fact in person attendees would still be switching on laptops and tablets anyway.  Time and research will prove this question.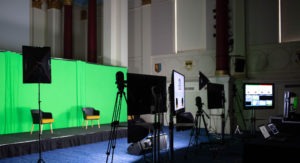 Food consumption is also probably a net balance – people still need to eat whether at home or the event.  They need to source and cook the food either at the venue or themselves.  Food miles should perhaps be considered but so should the fact that the home based, live streaming, delegate is eating leftovers or sharing lunch with family.
The most difficult and most important question to ask though is whether to have the event in the first place and what value it will deliver.  This has always been an important question to ask, but COVID-19 has highlighted the fact we really cannot hold events for the sake of holding them.  This will have a huge impact on the environment as organisers question themselves, hone the content and ultimately create fewer but better events.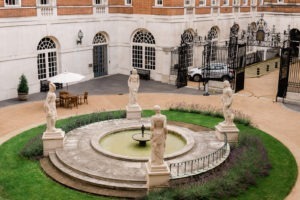 Hybrid events are the future, and they will be better for the environment than historic events.  However, all angles must be considered if we are to ensure they are a success and better for the environment.  The face-to-face element of events deliver serendipitous meetings and conversations that might not otherwise happen online, and we cannot ignore the importance of physical meetings.  Many topics that are often dealt with in a round table format for example offer significant logistical challenges, where small group dynamics work well online or in person but can be tricky where some are "in the room" and others not.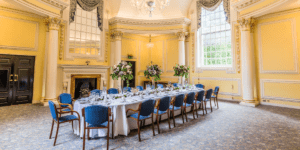 We must recognise that hybrid offers the opportunity for wider interaction and attendance, the chance to dip in and out of session, which in turn adds diversity and inclusion, increasing value in other ways.  However, some things simply aren't quite as good as the in-person experience – particularly that post event glass of English sparkling wine – which never tastes as good behind a laptop.
For further information on holding your hybrid event at our impressive London venue, please email: events@bma.org.uk or call: 020 7874 7020 or visit: www.bmahouse.org.uk