Sustainability is not just a buzzword; it has become an undeniable part of everyday living and is something we should consider at every opportunity.  As one of the most significant days in our lives, weddings offer an ideal opportunity to demonstrate not just a love for our partner but the world around us.  Amongst the myriad decisions we make when organising a wedding, the choice to be sustainable should be a simple one and there are many ways to achieve it from proposal to planning.  Here are a few of our top tips and thoughts.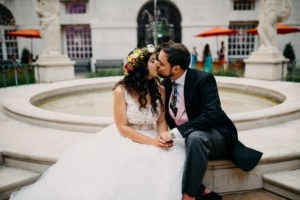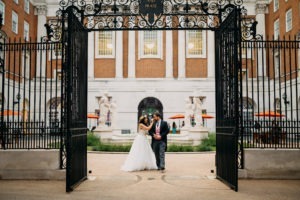 Sustainability starts with the proposal: What better way to demonstrate a commitment to the planet than from the very moment you get engaged.  Choice of a sustainable location etc are obvious but perhaps the most significant part of the proposal is the ring itself.  Rather than visiting the local jewellery store why not consider proposing with a piece of jewellery that is already in the family – perhaps your grandmother's ring or similar?  If classic, vintage looking jewellery is not your thing you can even get old stones reset or have the metal melted and reshaped into something more your style.  Either option saves the use of new resources.  Speaking of which, if you do choose to buy new then check the source of the stones – particularly diamonds.  Sadly, many come from less reputable sources including areas of conflict and abuse of the miners.
Venue Choice: Once you are engaged it is time to start planning.  Very often the first choice is the venue – something we know a little about here at BMA House!  Talk to your potential venues to understand their commitment to sustainability, what actions are they taking to protect the planet?  How will they support your sustainable choices.  Many of the subsequent decisions you make about your wedding will be based on the capabilities and options available at the venue, so ensure you discuss sustainability with them from the very beginning.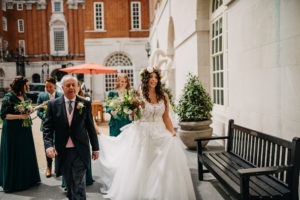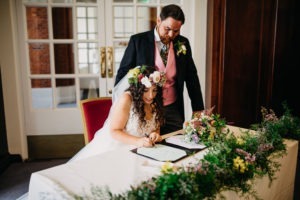 Venue Décor: An area of significant waste at many weddings can be décor and theming.  Significant amounts are often spent on changing a room to meet the needs of the couple and these frequently include single use items that are thrown away after just a few hours of usage.  Surely a better option is to choose a venue in a style that suits your tastes and desires – why pay extra for décor when so many beautiful venues exist with a style all of their own?  This even includes the great-outdoors.  Many venues are either purely external or offer significant external spaces that can be used throughout the day – whether it is for your ceremony, reception or photos.
Minimise Travel: Speaking of venues, there is amongst many couples a trend to use several venues, requiring transport from hotel – to ceremony – to drinks reception – to wedding breakfast – to party.  Each one of those journeys impacts the planet so we highly recommend minimising this as much as possible by sticking to one or at most two locations.  For those considering overseas weddings – travel sustainability and destination choice becomes an imperative.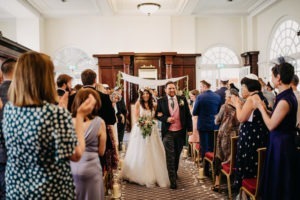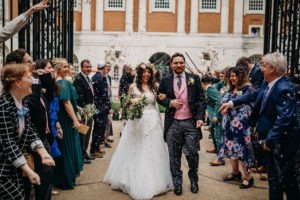 Reduce, Reuse and Recycle: This mantra is key to sustainability across all parts of our lives and as such can be reflected in wedding planning.  Firstly – use less, secondly, don't use it only once, thirdly – recycle it for future use.  Clearly this is relevant in the décor and theming discussed earlier.  However, a few other key areas are invitations, flowers, food and favours:
Invitations are potentially a big waste of money and environmental resources. Consider whether they even need sending – or perhaps digital invitations would be a better option.  Next think about printing requirements such as sustainable ink and paper choice.  Finally, minimise waste by only sending out what is truly necessary.
Cut flowers by their very nature look beautiful but aren't sustainable – you are quite literally killing them to provide decoration at the wedding. At the very least consider what is in season and local.  There are however many other more sustainable options that can be considered including pot plants or even herbs and small trees.
Food offers a significant potential for waste, particularly as it is one of the most expensive elements in the cost of any wedding. Here in particular it is vital to talk to the venue and caterers.  As a venue, along with our catering partner CH&CO. we have been delivering sustainable food options for a long time and could in fact write a whole article on just that topic.  For the moment though our key recommendations are to seek out local and seasonal food; order the right quantities and select menu options that have lower impacts on the environment.  And when it comes to drinks – try the local wine and avoid bottled water.
Favours are a lovely memento of any wedding but think about the long-term usage and how realistic it is that the attendees will keep or make use of whatever it is that you give them. Trinkets and tat are likely to gather dust and eventually end up in landfill, food stuffs are a far better option as are small plants, seeds and the like.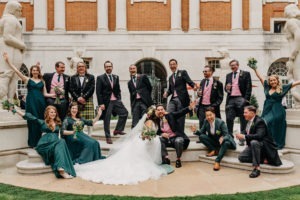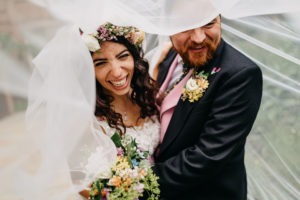 Where and What Next? The gifts and honeymoon also offer plenty of opportunities and pitfalls for sustainable choices.  A sustainable gift registry is a good choice as of course are donations to worthy charities.  Above all else you don't want people spending money on items that are never likely to be used or are unsustainably sourced.  When it comes to the honeymoon – well that is a whole other article on sustainable travel and destination choices!
Ultimately, making a wedding sustainable is not just a matter of ticking a few check boxes.  It needs to be carefully thought out and planned.  For some it seems like it is all a bit too much hassle – however, when you consider the lifelong journey you are setting out on together, surely it is worth a few extra minutes to ensure it starts in the most positive way possible.  Here at BMA House we believe that a sustainable wedding will lead to a sustainable marriage – what more could you want and what other reason do you need to place sustainability at the heart of your wedding?
To find out more about holding your wedding in our stunning sustainable London venue, contact our wedding planners on 020 7874 7020 or email [email protected]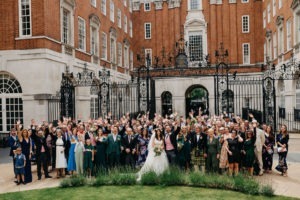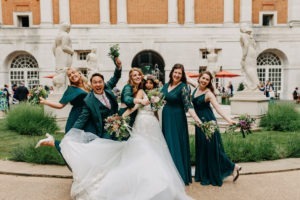 Photo credit to Michal Gutowski
Website: https://mgweddings.co.uk/